There are certain kicks that will have a special place in my sneakerhead heart. One of them without a doubt is the Question Mid from Reebok. This shoe takes me back to when I was a kid. Basketball was a huge part of my life back then. It still is, but not like it was when I was younger. Part of the reason I loved hoops so much was that at that time I started to become a sneakerhead. I would look to see what my favorite players were wearing. I also looked out for sneakers that were unique.
When Reebok first introduced The Question so many people out there copped them right away. For me I could never find my size. It was always so tough since they were selling out. The first signature shoe for Allen Iverson was just as popular as he was. Now Reebok has brought them back. The original colorway. The original look. Heck even the original box was brought back. As a snearkerhead and a kid growing up in the 90's Reebok brought back a ton of memories for me when they released this shoe earlier this year.
The Question Mid OG was the first pair of shoes that Allen Iverson wore on court. From the pearlized red leather toe, the translucent ice outsole, Reebok's patented Hexalite technology, and the iconic "Q" logo on the back collar, the Question Mid signaled a new era of basketball with Allen Iverson's trademark lightning quick moves, cementing him as a true star.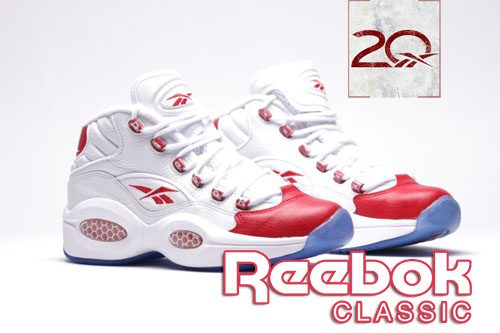 Over the course of his first season, Iverson wowed audiences with a string of 40 point games and earned the title of Rookie of the Year. The Question Mid OG also birthed one of the top moments in Allen's history, where a rookie Iverson went head to head with Michael Jordan with what became his legendary crossover move. This one play inspired legions of fans as they tried to recreate The Crossover on their own.
Check out my video review of these sneakers. The Reebok Classic Question Mid OG is now available for $140 at retailers including Reebok.com, Finish Line and Sneaker Villa.


Please note: Reebok did send me these sneakers, but my thoughts are my own.