As we approach this holiday season I wanted to make things a bit easier for all you parents out there. So, I created a holiday gift guide that has toys, tech and crafts that your kids will enjoy! From LEGO's to DIY bracelets to the latest games I hope you find some great gift ideas.
The Cutest Creatures At Galaxy's Edge
If you are looking for some fantastic plush animals from a galaxy far, far away then you need to check out the Disney store website. If you can't make it to Galaxy's Edge in Disney World or Disneyland than their site is the next best option. From Loth Cats to Banthas to Tauntauns their site has you covered. Two creatures you should look out for is the Tauntaun and Porg. Turn to the cute side and embrace the power of the Porg with Disney's soft, snuggly plush that features flapping wings and sound effects. This fuzzy friend will win your affections with its large eyes and a love of hugs. Fresh from the far, frozen reaches of Hoth comes our posable Tauntaun Plush with sound effects. This Star Wars snow lizard features a furry coat, soft horns and claws, plus a plastic snout and eyes.
This Harry Potter Book Comes Alive
A dazzling new edition of J.K. Rowling's Harry Potter and the Sorcerer's Stone is here. It is fully illustrated in brilliant color and featuring exclusive interactive paper craft elements. It includes a foldout Hogwarts letter and more! In this stunning new edition of Harry Potter and the Sorcerer's Stone, experience the story as never before. J.K. Rowling's complete and unabridged text is accompanied by full-color illustrations. There is an page eight exclusive, interactive paper craft elements. Readers will open Harry's Hogwarts letter, reveal the magical entryway to Diagon Alley. You can make a sumptuous feast appear in the Great Hall, and more. Designed and illustrated by award-winning design studio MinaLima. You can get the book here!
Tis The Season To Code
One of the best things I love about the littleBits is that they created great tech kits that teach kids about coding and STEM. As a parent you love when your child can enjoy time with a kit like this, but also learn about science. littleBits has a bunch of kits that not only families can enjoy, but there are kits that would be a perfect fit in schools. So I would highly recommend you check out the Synth Kit for your child this holiday season.
Create amazing sounds right out of the box while learning the basics of analog synthesis. Includes a project booklet with step-by-step instructions for creating a wide array of sound circuits and projects, and the box transforms into a ready-to-use performance station that can connect to recording or live sound equipment.
Get Over Here
Just as I have been loving all of the retro toys and games, so have my kids. So when the Mortal Kombat mini arcade game came out I had to check it out. My daughters and I love playing this game. It has the original characters from the first Mortal Kombat game. One of the most popular arcade games of all time is back in this authentic handheld edition. Just like the big arcade unit you can select your fighter and battle opponents in one-on-one timed matches. Drain your opponent's health bar to win each round. First to win two rounds wins the match! Play a finishing move to hear the famous words: "Finish Him!" So in the immortal words of Shang Tsung this game is "Outstanding!"
Wrapping Up The Cuteness
Cutetitos – everyone's favorite adorable stuffed animals wrapped in burrito blankets – are now available in an all new series, with brand new animals and fun new glitter fabrics! Cutetitos are a variety of adorable, stuffed animals wrapped and hidden in a burrito blanket ready to be unrolled and discovered! Based on the trend of pet owners wrapping their pets in blankets like a burrito, now kids of all ages can collect Cutetitos and roll their own stuffed pet into a burrito!
DIY All Day
RoseArt and Mattel has launched a new line of DIY makeup kits called BeYouTology. The perfect holiday gifts for tween girls who love watching DIY makeup and craft channels on YouTube, these kits encourage girls to get creative and play with color as they mix and blend their own personalized makeup. With 72 pigment pearls in the Luxe Kit, girls can create more than 60 color combos such as fantasy sparkle or glam glimmer or natural glow. Each kit comes with lip gloss tubes and/or eyeshadow and highlighter compacts. BeYouTology Luxe Cosmetic Bar Kit (MSRP $29.99) and the BeYouTology Lip Gloss Kit (MSRP $9.99)
Where In The World Is The Fun?
You can find the fun in the Carmen Sandiego Handheld Electronic Game. This game was one of the most popular computer games of all time. Where in the World is Carmen Sandiego, is back in this handheld edition! Now, a whole new generation can enjoy this classic crime-solving game! Complete the missions by traveling around the world to find clues and catch the villains working for Carmen Sandiego, the international criminal mastermind. Make it to the end for a chance to catch Carmen herself – don't let her get away. Carmen has a new series on Netflix and my family and I enjoy watching the show so this game was a hit in our house. I even did sing the old song for my kids which brought on some eye-rolls! Lol!
K'Necting Fun With Dragons
My youngest is a big fan of dragons. She and some of your classmates even started up a club about dragons. So when K'NEX Dragon Revenge Coaster Building Set came out I knew my daughter would love to check this toy out! You and your kids build and design a very cool roller coaster! The motorized track gives kids the power to outwit the dragon at every intense turn.
Climb to the top then drop, as the car lift races through sharp turns and flips upside to escape the moving dragon. This set features 584 classic size K'NEX pieces including a newly designed motor that powers both the dragon and chain-link coaster car lift. One of the biggest perks of this set is that you and your kids get to spend some quality time together as you build and play with the set. Quality time with your kids is great holiday gift for you and your family.
Wakanda and Fun Forever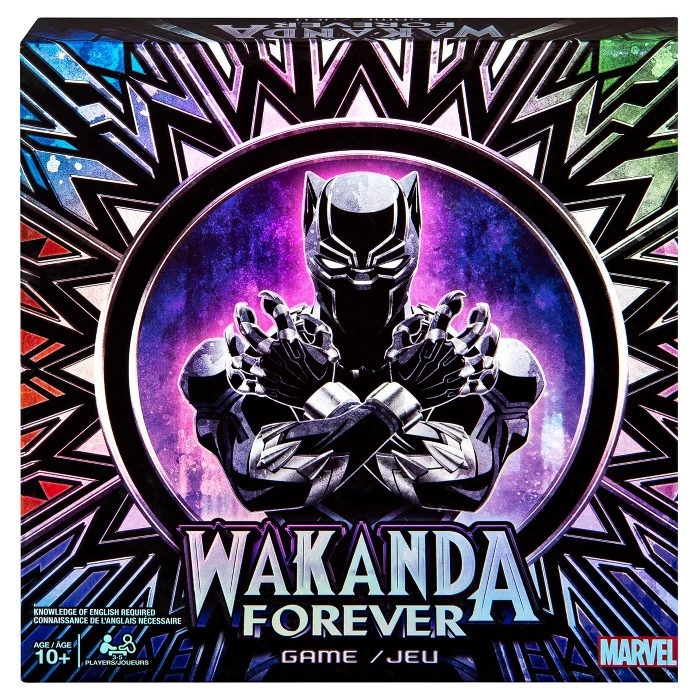 We enjoy watching all of the movies from the Marvel Cinematic Universe. One of our favorite movies from the MCU is Black Panther. Spin Master has a Black Panther Game that is called Wakanda Forever Game. In this this fast-paced Marvel dice-rolling game, players represent the tribes of Wakanda as one player carries the title of Black Panther with a totem. Players roll dice to collect Vibranium to help defeat a lineup of villains and earn points as threats are eliminated!
The first player to earn the most points and hold the title of Black Panther wins the game! Players will have the opportunity to challenge and dethrone the current King in a battle throughout the game. Players can choose between regular or shorter play of Wakanda Forever. Shorter play takes approximately 30-35 minutes, whereas regular game play will take approximately 45-60 minutes. Wakanda Forever is the exciting dice-rolling game for 3-5 players, aged 10 and up. It's a great game for families, teens and adults alike!
Hail Hydra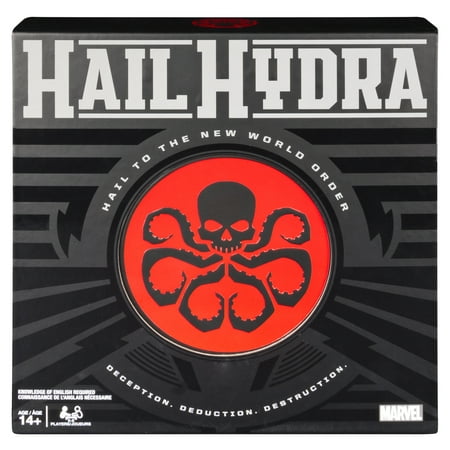 Spin Master also continues the Marvel fun with another game called Hail Hydra.
This action-packed game brings scheming, sabotage and the Marvel Universe to game night! Team up as Marvel S.H.I.E.L.D. heroes to protect New York City from a barrage of villains. It's no easy task as secret Hydra agents have infiltrated your team! Figure out who they are and retrieve the Cosmic Cube from the evil Red Skull to complete the mission.
You take on the identity of a S.H.I.E.L.D. team hero or an evil Hydra operative hiding within. No one knows who you are yet. Choose one of the 14 Hero Cards including Captain America, Spider-Gwen and Black Panther. Arm yourself with your character's special weapons and abilities and mount team offensives to defeat villains. Complete missions to get to the ultimate battle against Red Skull. With 14 Hero Cards and 18 Villain Cards, Marvel fans will find their favorite characters—good or evil—in the electrifying board game, Hail Hydra. The Hydra logo dominates the premium package which opens to reveal character cards featuring dynamic, propaganda-style artwork. The metal mover included in the game is a miniature Avengers Tower.
Create Your Own Jewelry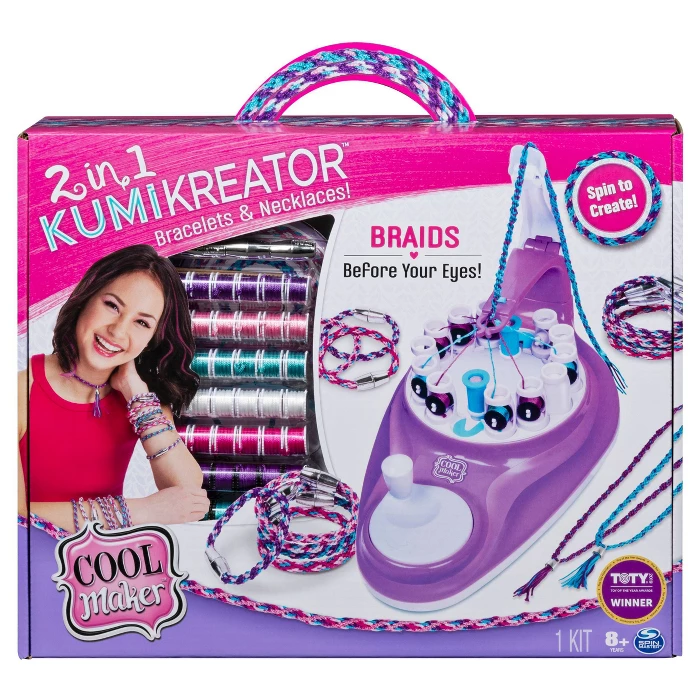 From the fun folks over at Cool Maker comes KumiKreator Friendship Bracelet Maker. It's fun to create bracelets and necklaces following the 2-in-1 KumiKreator's easy process. Choose a pattern, load the spools into the machine and spin to create! As you turn the handle, your braid magically weaves together in minutes! With 60 spools of string in 5 colors, 2 design booklets, clasps and more, the 2-in-1 KumiKreator has everything you need to make up to 5 bracelets and 2 necklaces! Create tassels for your necklaces using extra string!
The 2-in-1 KumiKreator's 60 premium ready-to-use spools of string easily pop into the machine and make every braid look beautiful! Create necklaces and 8 or 12-strand Kumi bracelets for different looks, without a single knot needed! Jewelry making kit for kids aged 8 and up and makes a great gift. Spin to create beautiful friendship bracelets and necklaces with the 2-in-1 KumiKreator!